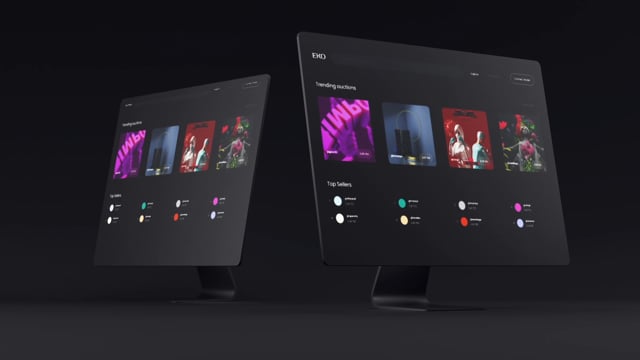 ''every great work of design begins with an even better story''
Blockgen Wallet (Store your Crypto and NFT's Securely)
Blockgen wallet is the next generation of digital wallets. It offers you an easy way to keep all your NFTs/Digital assets in one place securely. Blockgen also allows users to view their collected NFT's weather is a digital artwork, music file or even an augmented reality experience. Blockgen is the only wallet in the market which allows you to store NFT's collected using Ethereum, Bnb, Wrx and Tezos all in one place.
Nike - Landing Page Re-Design
I decided to redesign Nikes e-commerce store to make it feel more modern and futuristic. *This is a personal project.
EKO - Clean NFT Marketplace
A non-fungible token (NFT) is a unit of data stored on a digital ledger, called a blockchain, that certifies a digital asset to be unique and therefore not interchangeable. NFTs can be used to represent items such as photos, videos, audio, and other types of digital files. NFT marketplaces are online stores through which artists can sell digital artworks as NFT's. NFT's can be bought using various cryptocurrencies. However, most of the NFT popular marketplaces run on the Ethereum blockchain.
Most Non-Fungible Tokens (NFT) Marketplaces run on the Ethereum Blockchain which uses a lot of energy and causes a ton of emissions per transaction. One Ethereum transaction causes almost the same amount of carbon emissions as an Average European Household causes in a month!
Eko is a clean NFT marketplace which uses the Tezos blockchain to make NFT sales more environment friendly.
Covid-Warriors (Game Concept)
This game is a tribute to covid heath care workers. The main objective in the game is to punch and destroy as many virus as possible.
UX/UI Design, Concept Design, Motion Graphics
Zen Dimension is an app/ digital therapeutic which uses the power of technology and therapy techniques to relieve anxiety and stress in users. The App makes use of Meditation, Sound Therapy and Color Therapy to calm the user. An Electroencephalography (EEG) Machine is used to track users daily progress and analyze brain waves
Contact:
T: +1 (315) 626 1840
E: intuitivelab18@gmail.com